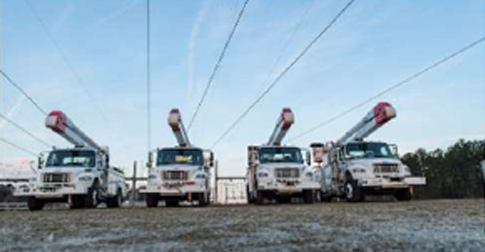 A commitment to reliability Georgia Power is the largest subsidiary of Southern Company, one of the nation's largest generators of electricity. It operates as a vertically integrated utility providing electricity to 2.6 million retail  customers in all but four of Georgia's 159 counties, and to wholesale customers in the Southeast. The utility takes its commitment to its customers personally. High reliability, low prices and high customer satisfaction are  cornerstones of its customer commitment. For customers, that reliability begins with the utility's ability to keep the lights on, and to be able to restore power quickly when there is an outage. So it's imperative that Georgia Power has a network management solution it can rely on 24/7, providing visibility across its entire grid with access to real-time, decision-driving data. And it's equally important that the system has storm-proven scalability and  availability. The utility found what it needed in Oracle Utilities Network Management System (NMS).
Georgia Power co-owns and operates a network of more than 17,000 miles of transmission lines and owns and operates more than 70,000 miles of distribution lines. In a major outage, the heartbeat of the company's outage management and restoration efforts resides in Georgia Power's Storm Center, where the utility is able to monitor and coordinate both storm readiness and restoration efforts in the field, operating in close collaboration with the  utility's Distribution Control Center (DCC) and the aid of near real-time data from Georgia Power's outage management and other integrated systems.
Integration with other systems is key to complete situational visibility, and the Oracle Utilities Network Management System has enabled Georgia Power to leverage its existing investments in SCADA (supervisory control and data acquisition), GIS (geographic information system), AMI (advanced metering infrastructure), smart relays and switchgear through integration into the NMS.
Georgia is subject to a variety of severe weather issues, ranging from hurricanes, violent thunderstorms, heavy winds and tornadoes to wildfires, ice and snow. State-of-the-art technology is at the core of the utility's outage restoration expertise, which has been acknowledged by numerous national emergency response awards over recent years. Most recently Georgia Power received Edison Electric Institute's 2012 Recovery Award, recognizing its efforts to restore power to its customers after fierce summer storms in the state, as well as its 2012 Emergency Assistance Award, honoring the utility's efforts to help other electric utilities following the summer derecho  (windstorm), Hurricane Isaac in August, and Hurricane Sandy in the fall.
From Paper Maps and Printed Tickets to Near Real-time Visualization Georgia Power's modern storm response journey began back in the mid-1990s, when the utility first began to install what is now Oracle Utilities Network Management System (NMS)." At Georgia Power we had no outage management, no electronic map board, and we printed tickets out. System maps were a series of paper maps on the walls," said Greg Brock, Georgia Power's distribution support specialist in charge of OMS implementation. "Operators were infinitely familiar with their areas, but there was very little on being able to aggregate information on the outages."
Oracle Customer Case Study At the heart of the NMS is a computerized model of the distribution network of wires and equipment in the field. This network model allows the system to automate functions that were historically manually intensive and paper-based, such as grouping outage calls and identifying affected customers for an outage. Georgia Power recognized the importance of accurate mapping data and has migrated from a CAD (computer-aided design) system to a geographic information system (GIS) to support its network model management. The GIS allows the utility to maintain a single environment for field data to better support outage management, system analysis, customer information and a webbased viewing platform.
David Lyons, Georgia Power's distribution support manager, noted that the value of source data, model data and map data is extremely important in outage management: "A lot of utilities underestimate the value of good, accurate data," he said. Good, validated source data coming into the system is invaluable to operators dealing with outages, quickly dispatching crews, and giving customers estimated restoration times. The Oracle Utilities Network Management System has helped Georgia Power respond to outages caused by all types of weather conditions while improving both safety and performance in the field.
This is also proven in their reliability numbers, which have shown more than 20% improvement in the past 5 years. For Georgia Power, one of the many advantages to using Oracle Utilities Network Management System is the fact that it is GIS and SCADA vendor-agnostic, which enables the utility to leverage existing technology investments, to be able to add new technology, and to improve data quality, all adding new value. "Through time, business processes change and upgrades help us with our changes in business processes," Lyons said, reflecting the solution's provision of outof-the-box integration with multiple utility business applications.
Georgia Power has upgraded its NMS multiple times over the years. It is currently one of the most advanced outage and distribution management systems in production. Its integration to the corporate GIS, SCADA, mobile dispatch and advanced metering infrastructure (AMI) systems provide the Distribution Control Center operator a complete, realtime view of the status of the distribution network.
Oracle Utilities Network Management System also automated the utility's reliability reporting analytics, based on auditable time-stamped switching event history. This made a significant improvement in the granularity of the data so Georgia Power could quickly identify the biggest areas for improvement. "Over the years, our data became a lot clearer. This more granular data has allowed us, through analytics, to proactively identify and address  issues," Lyons said.
Remote Assistance Available to Sister Utilities and Mutual Aid Partners Georgia Power wasn't the only Southern Company utility to implement the Oracle Utilities Network Management System. So did sister companies  Mississippi Power and Gulf Power. They all operate the system on the same release with similar configuration and integrations. This allows them to share resources and provide assistance among the companies during storm situations. "In 2004, during Hurricane Ivan, Gulf Power needed help," Brock said. "I was deployed to help the system operators—I knew the system. In 2005, Hurricane Katrina hit Mississippi. Georgia Power's control center operators were able to help to clear tickets for Mississippi Power."
Again in 2012, during Tropical Storm Isaac, Mississippi Power turned over control of a portion of its coastal region to members of the Georgia Power control center staff (the same area that Georgia Power crews were  simultaneously deployed to in order to aid in Mississippi Power's restoration effort). This meant Georgia Power crews were able to receive guidance and switching instructions from the operators with whom they worked every day, while Mississippi Power's NMS model was able to be kept up to date in real time.
This commonality among the companies allows them to augment their trouble restoration staff in ways that single companies cannot and provides built-in disaster recovery sites for their Control Centers. It also provides efficiencies in supporting the system by upgrading at the same time and sharing testing efforts and integrations since the sister utilities operate on a common release. While each of the three operating companies has its own unique configuration for many of the tools in the system, the ability to test together and work in a cooperative environment means all three companies can share in their efforts around many of the tasks in support of the system. "Most of our interfaces are common, so if one company trips a bug there is a high probability that it could affect the other companies," Brock explained.
Managing Customers' Outage Restoration Expectations Using the industry's largest set of utility-configurable outage analysis rules, Oracle Utilities Network Management System is also able to provide Georgia Power with highly accurate estimated restoration times the utility can communicate to its customers. "Back in the old days, you took your best guess," Brock recalls. Those guesstimates are no longer necessary. The ability to produce accurate estimated outage assessment and restoration times—using table-driven parameters to factor in variables, such as shift and season, and "what if" scenarios to improve estimates of crew staffing requirements and optimize mutual aid strategies—is invaluable. Today, Georgia Power has a Storm Center responsible for monitoring weather and staging crews in advance of the storm, coordinating crew movements throughout Georgia and with other  companies, and coordinating and preparing damage assessment teams and support for its storm operations. The Storm Center works in close coordination with Georgia Power's Distribution Control Center, and finely focuses its efforts on storm restoration, with NMS information provided by the DCC. "The Storm Center brings the damage to a centralized point," Lyons said. "Information from the NMS helps the Storm Center restoration team make decisions about restoration times and appropriate amount of resources."
"After initial assessment (of the outage) in our Storm Center, we send out the estimated restoration time (ERT)," Lyons added. Georgia Power posts frequent storm updates (number of customers out, and in which areas of the state, as well as other important information) on its Twitter feed (twitter.com/georgiapower), and also provides its customers with Web-based outage maps detailing estimated restoration times and the cause of the outage.
In addition to the above, Oracle Utilities Network Management System also assists Georgia Power's Call Center during outages by entering calls and providing feedback for customers that includes customer history and detailed event information such as estimated restoration times and crew remarks.
"Oracle has a lot of NMS functionality," he added, "but the functionality our consumers care about most is OMS in terms of reduction of outage duration, and communication regarding the outages." "Our restoration efforts have become so much more efficient," Lyons said. "We have a better understanding of our customer from an operational point of view." Advanced Distribution Management (ADMS) Capabilities Oracle Utilities NMS provides a single model and user interface for OMS and DMS functions. By providing a single unifying platform, and offering optional, pre-integrated modules that work together and with other products, it has allowed Georgia Power to incrementally expand its NMS capabilities, according to need.
Between late 2011 and early 2012, the utility deployed Fault Location Analysis (FLA), a DMS module. FLA builds on Georgia Power's focus on reliability and reducing outage times by effectively and efficiently routing repair crews directly to the problem in the field. Specifically, it uses fault relay data to determine specific fault locations on the model so that operators can see these locations on the map and send a crew straight to the problem rather than to a general area, where they then have to patrol the lines to find it.
"We saw some things that could help us, and our FLA implementation was pretty straightforward," Brock said. Georgia Power was able to add additional data to the model to support these calculations. The OMS model was
expanded to include impedance, length, type and other attributes for conductors so that a full impedance matrix is now available to support the DMS applications. This means the operator has a single set of screens and map to view, rather than dealing with multiple systems and having to support multiple models. "Even region personnel, when there is a fault, will ask the operators, 'Where is the predicted fault?' If we can head crews to the right location, we are miles ahead, especially in Atlanta, where a string of stop lights out means gridlock, and our people can't get to the affected area," he added. "There's an engineers' side benefit to this, too," Lyons said. "From the fault current calculation, they can -click and get an accurate fault current based on the real time configuration of the electrical system. What was a 30-minute task is now 30 seconds." Not all of the problems result in a lights-out condition for customers. Some problems just cause the lights to blink, due to intermittent contact between the wires, or a tree limb brushing the wires when the wind blows. These are much harder to detect and resolve. FLA functionality marks the specific location on the map and allows crews to find the problem faster, rather than looking for a needle in a haystack. Georgia Power had a recent problem with repeated momentary outages on a specific circuit. FLA marked the location on the map where a kite string was causing interference with the wires and causing the lights to blink. This would have been difficult to diagnose without FLA and might have persisted for some time. According to Brock, "The operators who saw the early successes in the test environment are manic about using FLA now."
Future Plans
With the ability to add capabilities module by module, Georgia Power is looking to the future on the DMS side of the system. "Power Flow is probably the next module to implement," said Brock. This module calculates the load and voltage for all points in the distribution system using an unbalanced, three-phase power flow algorithm. This provides operators with greater visibility and knowledge of the performance of the network as they perform switching actions. It will help them identify overloaded conductors/devices and voltage violations, ensuring that the system is operated within its limits.
Other advanced modules can generate an optimal set of switching sequences to isolate and restore system segments, or provide overload relief for a feeder. They can also extend the Power Flow solution so that it predicts future
problems on the network based on typical load curves. As well, Georgia Power is implementing Inter-Control Center Protocol (ICCP)—a SCADA Integration Standard supported by Oracle and used by Georgia Power—for outbound messages from the NMS to SCADA in order to support interoperability and data integrity between these critical operational applications. In doing so, NMS users will be able to place tags in the NMS that are applied to the SCADA system. Additionally, the utility is implementing a unique and highly innovative pre-posting practice, whereby new assets from its GIS can be posted in the network model as a "planned asset". This enables the NMS to create switching plans to energize the new planned assets and synchronize them with Georgia Power's SCADA. Then, when the new planned assets are energized, the model is immediately current, as opposed to the normal 30-day process to post new assets in both SCADA and NMS into operational models.
Challenges
The need to provide more useful information to system operators, storm support staff and corporate support staff, to allow them to make better decisions for system operation.
The ability to put the right data in front of the right people at the right time.
Universal access to near-real-time data both on blue sky days and on worst-case storm days.
Better external customer communications abilities.
Benefits
High-quality, storm-proven scalability and availability.
The ability to leverage existing investments in SCADA, GIS, AMI, smart relays and switchgear through integration into NMS.
A common OMS/DMS enables higher levels of crew safety and network performance. The utility doesn't have to wait for extended development processes—it's a complete solution at their fingertips now.
Automated Reliability Reporting Analytics based on time-stamped auditable events stored in the NMS makes mandated reporting easier.
Why Oracle
Georgia Power chose the Oracle Utilities NMS for several reasons. As part of their evaluation, they recognized the strength and flexibility of the network model at the heart of the system. This model has allowed Georgia Power to
accurately depict their network and its real-time status all the way down to the individual customer. The common model for OMS/DMS means the utility can add the attributes necessary to support advanced calculations and deploy those modules when they are ready.
The other major advantage of the Oracle Utilities NMS was its robust architecture, which far outweighed its competitors. According to Brock, "The concept of their architecture was far better than anything else that we've seen.
It facilitates the real-time interaction of many users in control centers, regional offices and even remote sites using remote access in real time, so that all users get the same picture at the same time: data is shared in real time with no delay."
And Georgia Power has used the system to respond to some of the largest storms in the company's history. "I am confident that we can handle anything that is thrown our way, but with the NMS software we have more useful
intelligence. We can handle the storm and provide detailed data about the number of customers out and the areas with the most damage, and make informed requests to move internal crews or request more external resources while providing good customer status communications to our customers," Brock added.
This architecture has allowed Georgia Power to execute several upgrades to the system over the years allowing them to stay current with technology, support and take advantage of expanded functionality. This is a major advantage in this ever-changing world of customer expectations and smart grid. While others have been and will continue to be working through their Distribution Management System development, Georgia Power has proven its Advanced Distribution Management system through some of the worst of storms and continues to find new uses every day, realizing the vision of the smart grid now.